/ Movies /
My girl is in Nova Scotia, I'm cramming DVDs into my craw that I'm not sure she'd like. Alone I can watch them fast, judge them fast: Ugh, get rid of it; Wow, watch it again; Wow zowie, order it again when she is here!
If I saw a movie a day, how many more movies would be made that I couldn't see? Hollywood paces itself, Indians, Japanese, Chinese make movies at a pace no one can follow. The last time I heard a stat (decades ago) India alone was churning out five hundred films a year! Double-header a day, single on Sunday?
Oh, so they're probably mostly crap. But you can't be sure.
You can't be sure even if you do see them all: don't tell me you can give equal attention to every movie if you're watching three movies a week, one a day, two a day … Ditto anything: if you started in ancient Athens, watched Sophocles, Euripides … would you really trust yourself to notice Hamlet in London two millennia later? Would you really be alert after all those Passion plays? No, no: we follow nudges from our culture: Hamlet was on the reading list, on lots of reading lists: that's a primary reason we know it.
Personally, I have all I can do to keep up with the five hundred or so greatest movies of the last century and a half: I know lots, from Melies to the Marx Brothers, from DW Griffith to Fellini, to Mizoguchi …

thanx criterion
Don't let another day pass if you don't know Ugetsu.
Anyway, masterpieces, galore: tons of crap: no easy agreement on which is which.
Notice, it's easiest to be sure of the three greatest movies if you've only seen a dozen, all in your own language, all featuring your contemporary stars. The headhunter in the band of twelve knows his tribe's heroes, with certainty: don't ask him about Achilles.
Why all this blab, on this of all days? Because last night I watched ten or fifteen minutes of Sex in the City, 2008.

thanx idividi
Apparently it's been around, and around, and around, since 1997 at least, when a novel of that name was published. I heard of it, but I was paying attention, or trying to, to Tolstay, and Shakespeare, and my own writing: and to Melies, and Renoir, and Kurosawa …
Anyway: now I get a glimpse of some of the names I've been hearing: Sarah Jessica Parker.
Annie? Annie! No wonder I've never seen her.
No, that's not fair. (But what is fair?) Never mind, Knatz, get to your damn story:
OK. Four women, friends, are sitting around a table, what, some fancy restaurant. One nice looking blond says, "My boyfriend has funny tasting spunk."
Uh, what? I can imagine a fag saying that, but I can't imagine a woman saying that. Is it my failure of imagination or is there something genuinely improbable about that line?
I wish I knew Erica Jong, I'd ask her. She's the first female writer I ever encountered who made me laugh with her blow job stories. Joan Rivers had great cuny (Bowdlerizing K. 2016 07 29) jokes, Erica Jong had great odd ball encounters. Smart gal, funny, a good ear.
Don't mistake: I am not pretending that I'm current in this culture, I most certainly am not. Still I don't readily believe that women talk freely in expensive public places about how their date's cum tastes.
Or: one would say, "My guy's spunk tastes funny." And her friends would say "What such squirt doesn't taste funny?"
I don't doubt that there are women who come to love the taste of jism, and everything else about the experience. God knows I love the taste of pussy froth. God knows I'll put up with all sorts of tastes I don't love in order to get at the taste I do love. And God knows I've never tasted male cum, and have never discussed the taste with many women. But my impression is: it's not a natural love for most women: as an experience, yes; as a taste, no.
(And I've only known a couple of women who are really good at it!)
I know this: in sixty years or so of being familiar with my own cum, only once have I ever thought it stank. I'm glad I wasn't with a girl at the time. I'm glad I wasn't spasming against her face, to hear her go, "Eeuwww!"
And only once in almost sixty years of knowing my tongue, in ecstasy against nearly everything there, have I flinched, withdrawn, "Eeuwww!" Bitter! extremely bitter! and salty!!
(Did I have an egg land on my tongue? I really loved that girl too.)
And I've talked about the taste of pussy, and heard talk, including in public places — the back room of the Whitehorse, later 1950s — but never in an upscale restaurant, catering to upscale women on the make for penthouse boyfriends.
Hard to say right, another draft may help; but don't think I'm looking for realism, dialogue overheard on the street.
Diaogue on the Street
Elmore Leonard just died. Now there's a great artist, great writer, great movie script guy who was appreciated, at least for part of his life time. I bet he could pick up some of his dialogue on the street: but: like Cartier Bresson. I saw a documentary on that great photographer once: a movie camera panned the scene: ordinary, ordinary, blah, very drab. Cartier Bresson clicks the shutter. Freeze frame. And there is a great great stupendous composition! I didn't see it coming: he saw it arrive.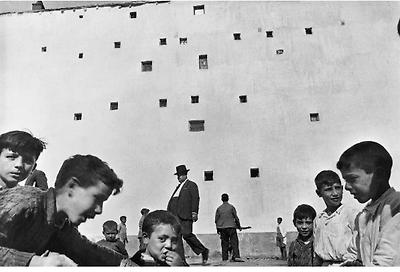 thanx daum